ASU Commerce Cloud implementation
April 2019–present
Over the last few years, ASU Enterprise Partners has done a complete reinvention of the systems we use to track ASU donors, funds, and gifts. Redesigning our online giving system was part of this plan.
Selecting a new system to host our online giving system was an arduous process. After reviewing several online giving options, we discovered that none of them really met our needs. We expanded our scope to include ecommerce websites, and finally landed on Salesforce Commerce Cloud, a system known for powering retail sites for brands such as Adidas or Columbia. But how could we utilize the functionality of Salesforce Commerce Cloud for a non-profit website?
Role
As the administrator of the online giving system, I had a critical role in the implementation of this new platform. I was involved in developing the wireframes for the online giving form and designing the navigation, while also being responsible for managing site updates, importing new funds, setting roles and other admin tasks. I would also need to learn how to utilize search dictionaries, sorting rules, and other Commerce Cloud functionality to support the online giving efforts.
Approach
Salesforce Commerce Cloud was not our first option when we started looking for replacement online giving systems. We first looked at several different systems geared toward online giving, but found that they weren't really meeting our requirements for a system. Universities, unlike many other non-profit organizations, have a plethora of schools and programs to raise funds for, and none of these online giving systems seemed to fit our model. We started realizing that an ecommerce site was closer to our online giving model, given our desire to allow the donor to "shop" for a fund that he or she wanted to support.
When this project first started, it was looked at as a 1:1 replacement for our online giving system. After getting to know the system more we realized that this site could do more than just handle the transactional part of the donation, but could also serve as our main website. We recognized how large retailers don't have two separate sites for their store and their "corporate" content; they use a single Salesforce Commerce Cloud site for both. We have had a long-standing philosophy of making philanthropy the focus of the website, and with SFCC we took the next step. Just like an online retailer has their product categories as their main navigation, so would our website. With our website, we utilized the various causes as the main navigation items.
Unlike the other aspects of the site, the gift basket ("shopping cart" in ecommerce parlance) was not something available out of the box. It was both a challenge and an opportunity, as no one had ever developed a donation experience using this platform before. We wanted to replicate the functionality of the previous form (recurring donations, gift dedications, etc), yet simplify the giving experience. In our new "cart," the gift information, payment, and billing steps take place in a single-page experience, unlike the previous form which required a new page for every step.
One other thing Commerce Cloud affords is extensive search functionality. For a clothing retailer, you might expect to search for options based on gender, clothing type, color or size. While those are irrelevant to a university, we repurposed this functionality to sort products by attributes like purpose, cause and objective. Using an ecommerce site for a university online platform certainly required additional creativity.
Results
Our university prides itself on being innovative. When we didn't find an online giving platform that worked for us, we looked at other options. Salesforce Commerce Cloud is a product aimed toward retailers, but that didn't stop us from using this for our online giving system. It took additional effort and creativity on our part to use this system, but we've found that this system supports our online giving efforts better than any online giving site options that were available.
In October 2019, we launched the new online giving system and website at asufoundation.org. Whereas before we had our organization website and a separate online giving platform, we now have one site that handles both components, providing a seamless user experience for our donors. The same system that powers popular online shopping experiences for companies such as Patagonia and Yeti also powers our online donation system. We take enormous pride in being the first university to utilize Salesforce Commerce Cloud for this purpose. Finding ways to enhance this site for our users remains one of my everyday tasks.
Below: Home page. The purpose of this site is to drive giving, so every item in the navigation is a link to giving opportunities. Links to "corporate" pages, like 'careers' or 'about us' are listed in the footer.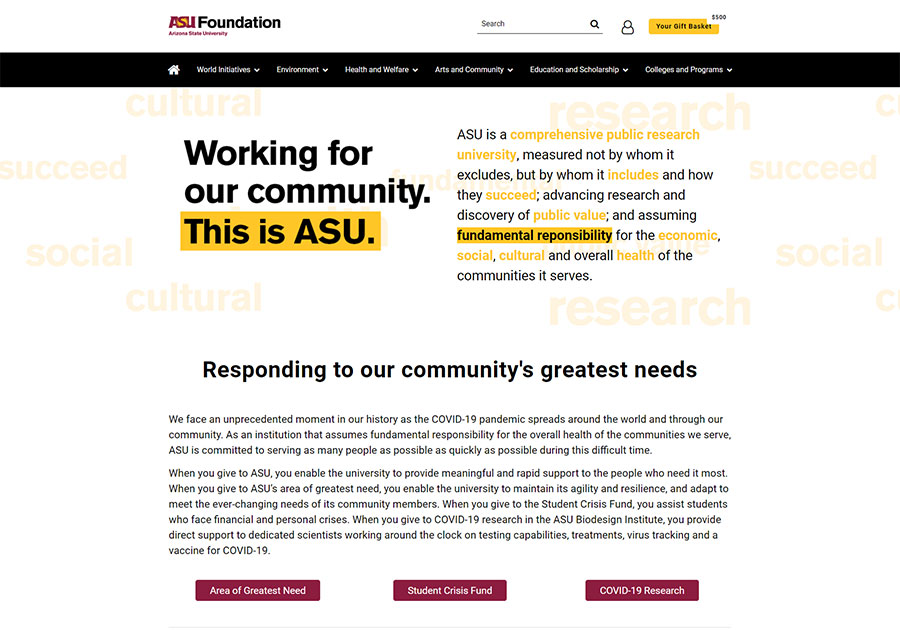 Below: Fund page example. For the first time ever, each fund on the ASU Foundation website has its own standalone page with information about what the fund supports. The page also takes advantage of the Salesforce Commerce Cloud platform by suggesting "similar" funds.
Below: Redesigned gift basket. All the functionality of the previous site (recurring donations, tribute gifts, accounts) in a single-page experience.